Maintenance & Call for Service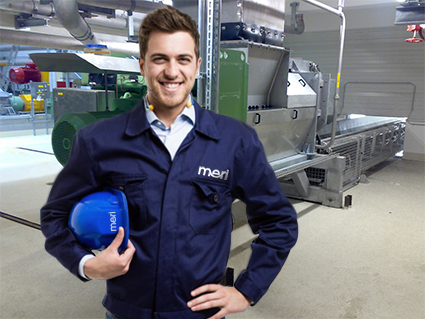 Preventive Maintenance Saves Time and Money
Regular machine maintenance can prevent costly downtimes at your production. We provide the support you need and are offering special Service Packages exclusively to our best customers. From single machines to full service packages tailored made to suit your individual requirements. Contact your Meri representative and find out more.
Service Packages – the Economical Solution 

Package 1: Single Machine Service 
We offer a coordinated service package, consisting of regular checks of the performance and condition of your machine (or machines). At the same time, we make sure that the necessary spare and wear parts are readily available and that they be changed at regular intervals. 

Package 2: Equipment Service 
We responsibly organize preventive maintenance as well as wear and spare part logistics for your equipment. This can be managed either by our own personnel or the customer's assigned plant personnel. The responsibility for maintenance and spare parts lies completely with Meri. 

Package 1: Full Service 
Within the scope of a full service contract  we take care of maintenance, servicing and spare part repairs for designated machines for  36 months at a fixed price, within the framework of the machine's performance data – for example throughput figures.